Mohammed Altajir – Custodian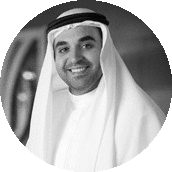 Mohammed Altajir currently works for Emirates NBD, the largest bank in Dubai. In his current role, Mr Altajir serves as the Manager of FX Analytics and Product Development within Wholesale Banking's Research team. His main focus is on the major FX pairs with a strong emphasis on accurate forecasting. This is achieved via combining traditional fundamental and technical analysis with cutting-edge technologies such as sentiment miners, big data and computer-enhanced algorithms to identify market trends and risks. In his secondary role, Mr Altajir oversees the enhancement of research and informational awareness through the leverage of custom designed AI and machine learning technologies to add new capabilities to support the bank's business functions.
Combining his background in research and strategy with his strong regional business connections, Mohammed lends additional support to the project by advising on strategic partnerships and giving crucial insights into the project's direction.