It has always been Tratok's intention to be the world's travel token. We could not claim this to be an ambition without supporting multiple languages. This would be hypocritical and a falsehood. Users of the ecosystem would have realized that over the last year we have been adding full support and translation for multiple of the world's major languages. Today we are happy to announce that the total amount of languages supported by the ecosystem has now reached double digits. At 10, it might be the smallest of the double digits but it is a start and a sign of things to come.
We currently support the following languages: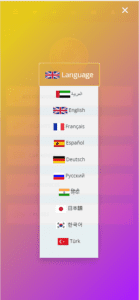 Arabic
English
French
Spanish
German
Russian
Hindi
Japanese
Korean
Turkish
We look forward to multiplying this number even more in the future and welcoming even more users into Tratok's Ecosystem.