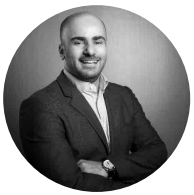 Omar Hussein has over than 15 years of work experience in Information
Technology and E-commerce. He founded successful startups across multiple sectors including Technology, E-commerce and Smart home automation.
He is a business professional and serial entrepreneur with extensive successful experience in Business Development, Sales and Management. Market development through distribution channels. During his career at Hewlett-Packard he ranked in the top 3% of the company's global employees.
His latest project is Home Bazar, an online marketplace empowering independent sellers and makers who create unique products from home.