Tratok's custodian, Mohammed Altajir, had the great pleasure to be invited and receive a warm welcome from Tom Urquhart and Zeena Azlamea-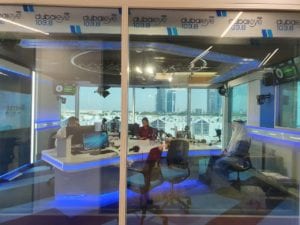 Turner, the hosts of Dubai Eye's popular show The Agenda. Dubai Eye is the leading English talk radio station in the UAE, reaching 327,000 listeners every week and is an ideal platform to casually explain to the Dubai public how Tratok is moments away from revolutionizing the travel ecosystem.
The studio atmosphere was very comfortable and the public asked some very interesting questions. Thank you, Tom and Zeena for hosting a great topic and many thanks to the general public who tuned in to ask interesting questions. For those of you who missed it and for our international supporters around the world, you can catch up with the podcast below. This represents just the first step of introducing Tratok to the public.