2019 was a year of challenges and milestones for the team at Tratok as well as the industry. Importantly for the health of the industry, new regulations were drafted in the second half of October 2019. While many see regulation as a hindrance to the industry, Tratok's management have already been clear on our views on regulation and are proud to announce that after close scrutiny by legally qualified and licensed professionals, we are confident that our platform, project and legal structure are fully in symbiosis with the legal environment. This setup took a lot of time, money and restructuring to become fully compliant, however it is an essential foundation for the next stages of development. Before look to the road ahead, our team wishes to share a few highlights of what has happened over the last year.
Deployment of the Ecosystem foundation.

Deployment of the Hospitality module.

Deployment of the Activities module.

Dozens of new direct B2B partnerships.

Successful pilot test in Dubai, United Arab Emirates.

A rise in utility token price from 1 gwei to 1887 gwei, an increase of over 188,700%.
Despite these resounding accomplishments, the path has not been easy. Fraud from specific groups was a constant thorn in our side and this thorn had to be purged without mercy. To combat such behaviour Tratok's smart contract featured many revolutionary measures, including the ability to lock and revoke freely given tokens that were obtained through fraudulent means at airdrops. Our zero-tolerance towards fraud will always remain a keystone of Tratok and there is no better demonstration of this attribute than the dismissal of and legal action taken against two former Tratok employees found to be acting in bad faith. Some may feel that Tratok's anti-fraud stance is too extreme but fail to realise that without such measures, Tratok would not have become a reality.
Over the last quarter, the team has focused its efforts on actually preparing for the next steps. For these to succeed multiple licenses were needed and structures created. It is upon these solid foundations that the next steps forward will continue and Tratok's future be more secure than ever. Today, the project finds itself in the strongest position yet and we have ample resources to ever to hit the ground running and achieve all our visions.  So strong is the position we find ourselves in that we can confidently say to all those who missed out, "Too bad, you had your chance and let it slip!".
The current focus of Tratok in 2020 will be on five key vertical pillars:
1.) Liquidity strength: In order for Tratok to deploy successfully and see everyday use, the liquidity of the ecosystem needs to be first class. It is no secret that one of the biggest problems in the industry is exchanges faking volumes and the number of legitimate users they have. This serves no purpose to our vision. To ensure adequate liquidity for the ecosystem, Tratok commits to listing on exchanges which meet the following conditions:
Have legitimate business registrations.

Are KYC compliant.

Have brick and mortar offices.

Have a genuine team.
By adhering to these conditions, we aim to access liquidity pools in excess of a legitimate AED two billion per day and spread awareness amongst 9 million blockchain enthusiasts in the first half of 2020. Based on our latest feasibility studies, this would result in 6000 times the exposure that Tratok currently has and will ensure healthy liquidity in the ecosystem. The introduction of new regulations by the SCA (Securities and Commodities Authority) in October 2019 caused a delay in this plan as Tratok's General Consel advised us to ensure Tratok was fully in compliance with the regulations, a long process as you may imagine. However, with this chapter closed, substantial effort is now being made to make up for the lost time.
2.) Penetration into new markets:
With the pilot test a resounding success and positive feedback from service providers across the board, Tratok will be expanding out of the UAE and setting up operations in the Eurozone. As Phase 1 of growth, over the next 18 months, Tratok aspires to allow direct and privileged access to 50,000 hotel rooms in the UAE and 150,000 hotel rooms in the Eurozone.
In addition to this, Tratok will target the Gen-Z segment of the market and offer a unique differential value proposition which will offer the new generation the luxury experience of travelling with all of the bells and whistles that were traditionally reserved for the elite.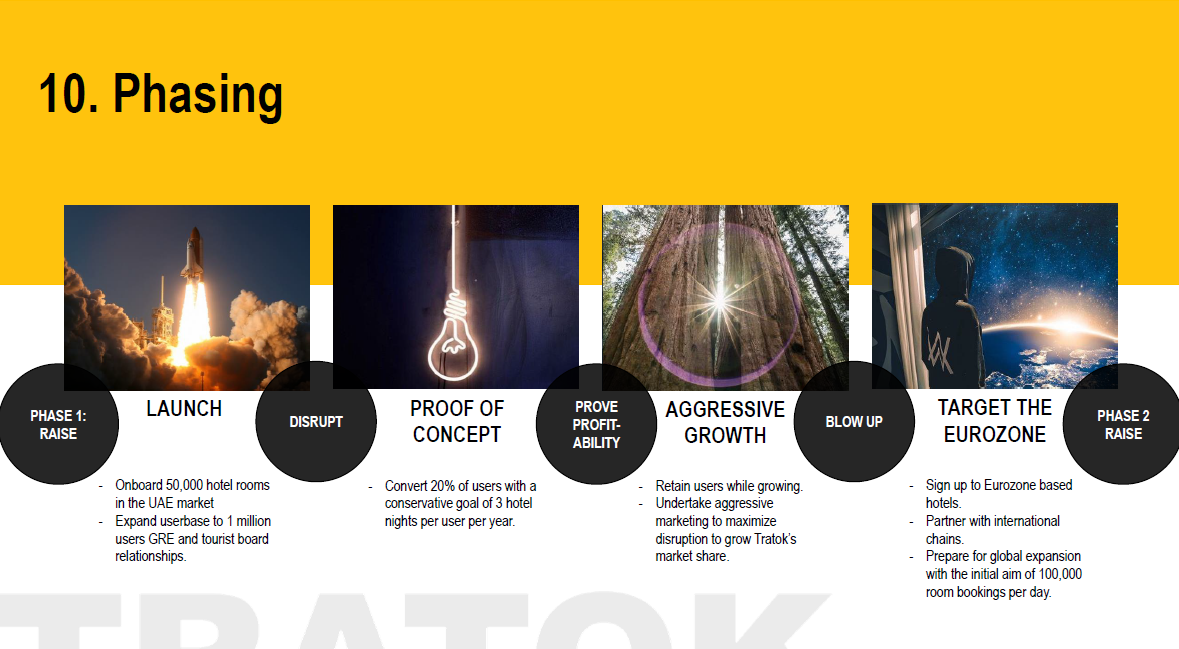 3.) Raise public awareness:
Over the course of Phase 1, AED 241.7 million shall be allocated to marketing to drive widespread adoption of Tratok. "GrowthHacking" strategies will be used to drive adoption and brand awareness, with an optimise and reapply methodology used to overcome challenges and pain points in building market share.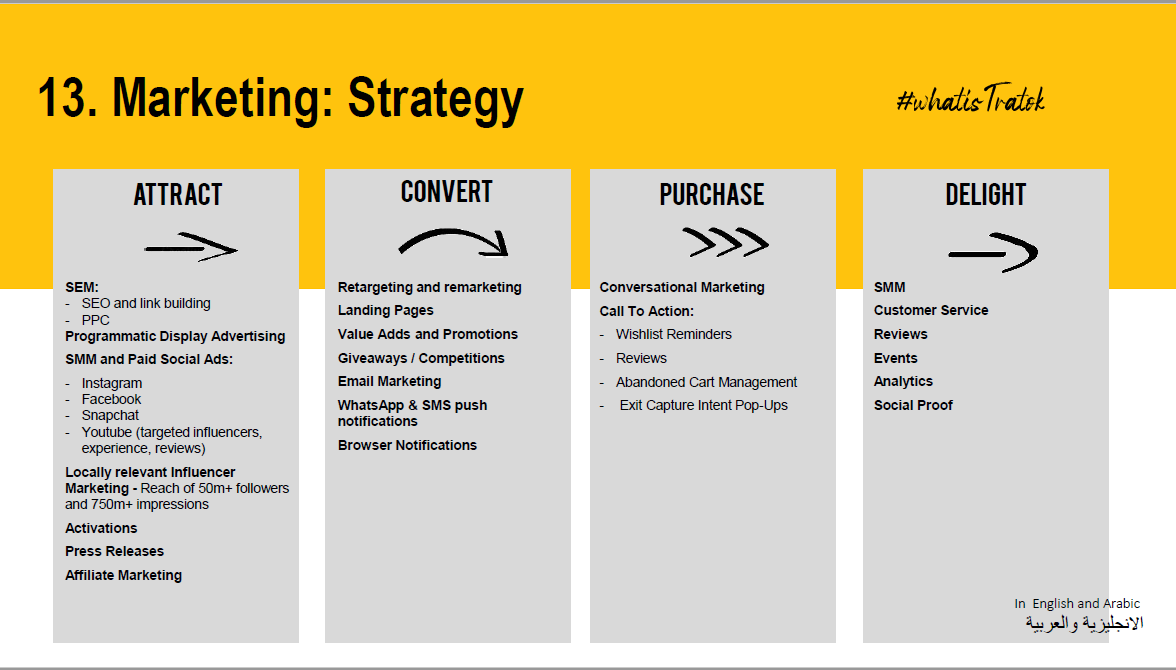 Funds will be spent in the following pathway to drive growth, ensure mass adoption and penetrate the sector through the following stages:
Discovery: Mass advertisement via Audience Mapping, Affiliate Programs, Social Media, Multiple Language Targeting and SEO. The special focus will be on different experiences offered targeted towards the Gen Z niche E.g. E-sports, Entertainment events, Sports, Training camps etc.
Explore: With a depth of offerings and endorsements, Tratok will intrigue, compel and push the targeted niche to explore the Tratok ecosystem. It will be unique.
Experience: The "WOW" factor!
Advocate: Brand Ambassadors, loyalty programs, stories and memories.
4.) Technology refinement

:
Having completed proof of concept, the current smart contract has served its purpose. With the community sanitized and the final stages of the ecosystem leaving the sandbox, Tratok has begun development of a domestic in-house blockchain with additional features which will be of benefit for our users.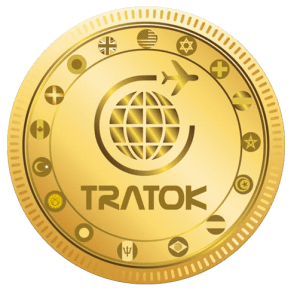 As well as lowering transaction costs and time for transfers, the new blockchain will be built around convenience for the most important stakeholders. The users and business owners! Featuring a contactless multi-purpose payment card for users, we envision the day when Tratok will be featured across the entire hospitality and tourism sector and users can simply tap and enjoy. At the same time, the smart contract will contain features to ensure service providers are able to receive payment in their local currency within minutes. We wish to make life easier for everyone and are investing a lot of funding into R&D to ensure everyone has the best experience possible! Our development team have already tested this feature with hotels in Dubai and they are confident that with further refinement, we are getting closer to the day when all you will need in your wallet is your Tratok card, before you travel.
Finally, Tratok will be setting up a new base in Abu Dhabi in January of next year. Given the amazing infrastructure and thriving blockchain community growing in the capital, the choice is logical and we look forward to joining other esteemed blockchain supporting ecosystems like Kraken and Midchains who are doing great things there.
One of the benefits of this is that it gives Tratok access to diverse VC's and Investment Banks and Sovereign Wealth Funds. Working alongside these stakeholders, Tratok will be hitting the roads and doing an initial round of equity funding before the eventual ambition of an IPO in London at the end of Phase 2. Our feedback has been substantially flattering and we will leverage this to raise the capital that will take Tratok from a national to a global brand, claiming our right to be called "The World's Travel Token".
On a final note, the team would like to thank all of our genuine supporters who have helped make Tratok a reality and realize its real-world use. We realize that over the last month we have left much of the day to day communication to our community managers, but the team was focused on events, partnerships, regulatory work and development. This has had to be our priority over the last month as we are here to deliver, not just speak about things that will never materialize. Without an ICO, without paying self-proclaimed experts for endorsements and against overwhelming odds, we have succeeded where so many have failed. As a result, we are now in a position where the world awaits us. Let us give them more of the good stuff and continue to show the public that, when deployed correctly, blockchain technology can change the world.
Regards,
The Tratok Executive Management Team.
P.s. For those who are curious to some of the early proposals from our marketing team (note we said proposals and will be doing a combination of these, not all!), financial projections and the set-up of our future team in Abu Dhabi, we invite you to visit the following link. As always, we pride ourselves on our integrity and will continue to be honest with the community. We look forward to seeing you all in Dubai soon.